Another one of those all-time lists is out for the NBA, and – what a surprise! – Shaq is on this one, too. Hoops website HoopsHype.com has done the math, and has come up with a list of the 25 highest-paid players, and the numbers have been adjusted for inflation. That means players who made big money many years ago can be on the list too, since the salaries have all been brought up to today's dollars. Or should we say.. Millions of dollars. 
As HoopsHype says, with the current environment of salary caps (and annual increases), TV money and more, players are obviously making more dollars (by the numbers) than ever before. But remember, a dollar (or a million dollars) went a lot farther before the days of four-dollars-a-gallon gas (or cup of Starbucks coffee). 
With a little help from the US Department of Labor Statistics, here are the biggest earners of all time. Remember, lots of players are also making (more) huge money with media commercial and sponsorship deals… these numbers are for what the players earned while actually on the floor. How many of these NBA greats would you have guessed for the list?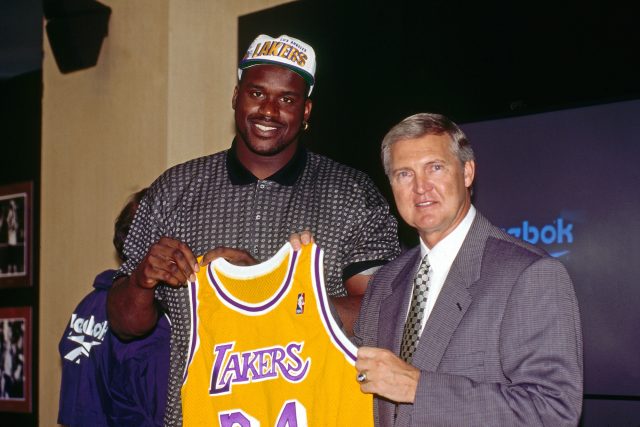 Before we get to the highlights, tip o' the hat to HoopsHype.com for the list. Check out the full 25 big earners on the list right here: https://hoopshype.com/2019/09/08/these-are-the-highest-paid-nba-players-in-history-adjusted-to-inflation/
#25. Dikembe Mutombo. Career earnings: $143,666,581- adjusted to inflation: $213,945,047. In an 18-year career with Atlanta, the New Jersey Nets and others, Mutombo was a four-time winner of the Defensive Player of the Year Award.
During the 2004-05 season, he made more total money ($19.5 million) than everyone in the NBA except Shaquille O'Neal ($27.9 million).
A couple of well-known members of the Miami Heat are on the list:
#23. Alonzo Mourning. Career earnings: $143,906,333 – adjusted to inflation: $215,551,783. With that whole inflation-adjusting thing, Mourning had the biggest "adjusted" gains on the entire list. Alonzo is a two-time Defensive Player of the Year, and he won the NBA Championship with the Heat in 2006 (pre-LeBron). Mourning inked the first over-$100 million contract in the history of professional sports, not just the NBA.
Dwayne Wade. Career earnings: $199,499,205 -adjusted to inflation: $225,185,939. Wade was a model of consistency. He was named a league All-Star for EVERY season between 2005 and 2016. He actually took a deal for less money with the Heat so the team had salary cap space to add LeBron James and Chris Bosh. Worth the deal; another NBA ring. 
Mid-pack big names…some recent, some not: 
#16 Ray Allen (Boston Celtics). Inflation-adjusted career salary: $240,587,554
#15. Chris Paul. Career earnings: $220,312,089 – adjusted to inflation: $241,243,408.
#10. Pau Gasol (currently with LA Lakers, mainly Chicago Bulls). Career earnings: $219,784,441 – adjusted to inflation: $253,314,717.
Movin' on up: 
#6. LeBron James (Cleveland Cavs and LA Lakers). Career earnings: $272,674,122 – adjusted to inflation: $303,039,711. Not a really big inflation adjustment, since King James is still currently playing, and his money is coming in right now. If not the GOAT, then certainly the greatest of his generation of players (no acronym for that just yet). Odly, LeBron has been the highest-paid player in the NBA just once, which was in the 2016-17 season. 
Other big names at this point on the list: 
#5. Dirk Nowitzki 
#4. Tim Duncan
#3. Kobe Bryant
That takes us to the Final Two: 
#2. Shaquille O'Neal. Career earnings: $292,198,327 -adjusted to inflation: $409,383,973. Fun Fact: When the Orlando Sentinel ran a poll in 1996 asking if the Big Man was worth $115 million over seven years, 91 percent of the readers said no. Maybe his feelings got hurt, so O'Neal then signed a $120 million deal with the Lakers. The four-time champion earned at least $17 million per season each year between 1999-00 and 2009-10, playing for four different teams in the process. For several different seasons – 2004-05, 2005-06 and 2009-10 – Shaq was the highest paid player in the NBA. 
And coming in at Number One: 
Kevin Garnett. Career earnings: $343,862,398 -adjusted to inflation: $445,769,453.
Surprised? Me too. Garnett benefitted from some different rules and numbers during his career days. Garnett came into the league right out of high school (just like Kobe and LeBron), when rookie deals allowed players out of their contracts after just three years, so he was able to sign a six-year extension worth $126 million when he was just 21 years old. It was Garnett's deal that led to the NBA instituting a cap on how much players could make, though his deal was already locked in. By the time he was 31 years old, he had already earned $180 million. Nice work, if you can get it.