Shaquille O'Neal a.k.a. DJ Diesel on the RANE® TWELVE & SEVENTY-TWO!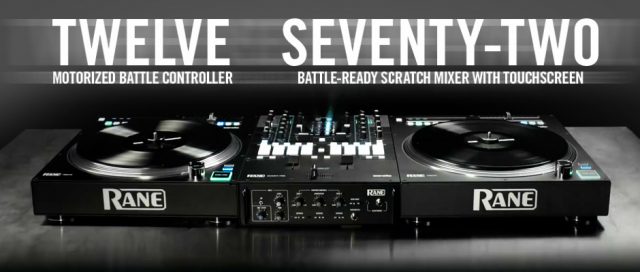 Steeped in DJ, Club and Battle-Mix culture since 1981, 
Rane DJ
 technology powers the creative energy of the world's most recognized Pro-DJs, Turntablists and Artists. Rane products continue to lock down innovation, durability, reliability and superior performance, flowing direct from the DJ's fingertips, to the dance floor! April 2018, Rane DJ unleashes two of its most innovative and future-facing DJ performance products to date – The tonearm and needle-less 'Twelve' motorized control turntable and, powered by Serato DJ Pro, the two-channel, 'Seventy-Two' advanced control and performance mixer.
The SEVENTY-TWO (Advanced Control and Performance Mixer)
With the strength and durability of solid-steel and aluminum casing, the gig and battle-ready Seventy-Two mixer represents the ultimate in advanced control needs and performance expectations of today's DJs. Designed in collaboration with leading Turntablists around the world and with the foundation of a globally trusted Seattle, US-based engineering heritage, the Seventy-Two redefines what is possible when true DJ artistry meets ground-breaking technology.
Powered by the all-new Serato DJ Pro software, the Seventy-Two's 4.3" color touchscreen interface visualizes its moving waveforms, enabling navigation, track selection and extensive performance preference adjustment too. It also offers full FX control and sonic manipulation utilizing and stacking the Seventy-Two's dual Flex FX engines with Serato DJ Pro's extensive effects banks. Two DJs can perform simultaneously and handover effortlessly via the unit's dual-USB connections. Turntablists can cut, flare, chirp, crab, orbit and transform with the new, tactile and precision based Mag Three faders, then flip between creative control functions via the 16 MPC-style pads with RGB backlight and multi-performance mode selections. Also, Serato's expressive Pitch 'n Time DJ expansion is included free with the Seventy-Two, for DJs to integrate creative 'pitch-play' techniques into the mix.
Highlights of the SEVENTY-TWO:
Solid steel construction—built like a tank for non-stop, heavy-duty use
(3) New MAG THREE contactless tension-adjustable faders for crossfader and channel faders with reverse, contour controls, and cut-in adjustment
4.3" touchscreen for moving-wave display, X/Y FX control, song selection and user customizations
Dual FLEX FX engines
Stacked Serato DJ Pro FX with internal post-fader FLEX FX
Dual die-cast aluminum FX paddles with 180-degree rotation
Chain-integrated Serato software effect control plus one internal FLEX effect per channel
Dual USB connections for DJ handoffs and simultaneous performance
Legacy Rane US engineered superior, class-leading audio quality (114db SNR USB to analog output)
16 Akai Pro MPC performance pads w/RGB backlight, adjustable threshold and aftertouch, with independent mode controls per deck.
Industry first – assignable USB controller inputs for RANE TWELVE motorized control turntable
Full on-board Serato DJ Pro transport/pad control should traditional turntables fail
Unlocks Serato DVS, with Serato's Official Control Vinyl included (also ships with Serato Pitch 'n Time DJ expansion)
The TWELVE (True Vinyl, Motorized Control Turntable)
With no tonearm or damaged/skipping needles, the Rane Twelve gifts the Pro, Club, Scratch and Battle DJ with a zero-error, secure and solid performance environment coupled with the 100% essence of a 'real-feel', true vinyl DJ experience. The heartbeat of the music finally returns to the DJs fingertips! The Twelve's twin-torque, 12" motorized platter gives 3,600 ticks of resolution, per single vinyl revolution. This brings precision music file playback with hitherto unrealized digital performance accuracy – customizable even further with a DJ's own choice of slipmat/butter-rug.
For too long now, Turntablists and DJs have had to compromise at live shows on their preferred levels of sub-bass frequencies, dialling it back in fear of feedback, rumble and noise. Now, with the Rane Twelve, control vinyl DJs can #ReclaimTheBass and perform their music at the full frequency range enjoyed by their fellow 'digital' DJs. In addition, the layout of the all-metal bodied Twelve is so familiar, that any DJ who's used a turntable before will feel instantly at home. The control elements are simplicity itself to use, with four deck-select buttons and the multi-function touch strip for track searching and setting/triggering hot cues, in place of the tone arm.
Both an evolution and a revolutionary movement in DJ turntable technology, the Twelve motorized DJ control system is without doubt, RANEvolutionary!
Highlights of the TWELVE:
Full 12" vinyl with motorized platter to control playback
Traditional, familiar turntable layout—no need to learn something new
Strip Search with 8 hot-cue-triggers access
5.0 kfcm high-torque motor with high/low torque adjust for more traditional setups
Four decks of control – DJ's can use one, two or more (dependant on number of mixer channels available)
Extreme precision—3,600 ticks of platter resolution for seamless performance
MIDI interface via USB that can be connected to the SEVENTY-TWO or your computer
33 1/3 and 45 RPM platter speeds
8/16/50% pitch with precise dual-resolution detented slider
Top panel rotary and traditional Motor Off switch allows classic wind-down effects
An Official Serato Accessory – will work plug-and-play with the Rane Seventy-Two or other Serato DJ Pro supported hardware
"Born in the USA in 1981, Rane has always put product reliability, durability and a solid feature set for DJs at its forefront. Now, with the Rane DJ Twelve and Seventy-Two, these breakthrough products look set to mature and enhance DJ sets, live-shows and competitive battles, well into the future", said Paul Dakeyne, Marketing Director for inMusic DJ Brands. "The Twelve enables DJ's to lose tonearm skipping and finally reclaim the bass they deserve, back into their music, and the Seventy-Two offers literally limitless performance possibilities for boundary pushing Turntablists and Pro-DJ's – RANEvolutionary indeed!"
U.S. retail for the Rane Seventy-Two and Twelve is $1899 and $799 respectively.
About Rane
Rane is an established innovator in problem-solving audio tools, professionally engineered with a focus on science, price/ performance, and not frills and hype. Designed exclusively in the United States, Rane's product distribution is worldwide. Marketplaces are DJ (performance, club, mobile and recording), Live Sound (FOH and monitoring) and Commercial (music and paging, networked systems) featuring innovative analog and digital audio products for each category.
For more information, visit www.rane.com