Popular basketball website and blog Fadeaway World is out with a new post ranking the all-time great NBA centers. Spoiler Alert: Shaq is definitely on the list. We'll get to the full top-five rankings in a second. In the opinion of Fadeaway, the game as it is played today is way more centered on running and shooting, full of fast breaks and of course super-high offensive scoring. 
In the opinion of the Fadeaway blog, that means bigs – like our fav big man Shaq – are less and less important to modern teams and playing strategies. Yet – as the blog points out – this was not always the case. Not too long ago, the big men – the centers – were the marquee names and most-recognizable players in the house. While high-profile centers are rare as the proverbial hens' teeth. (What are hens' teeth, anyway? Does anybody really know…?)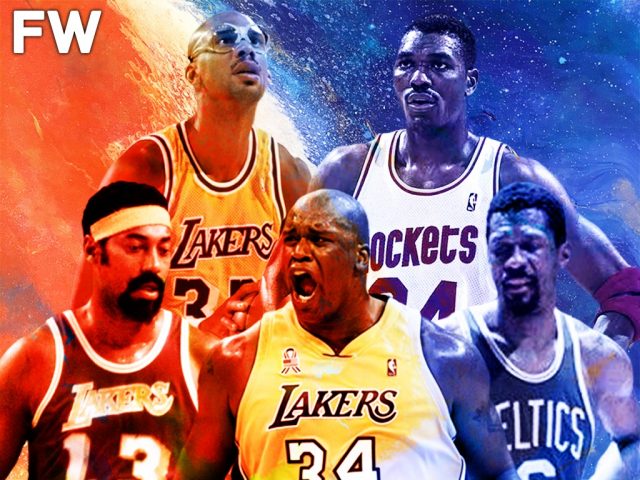 So, without further delay, these are the Top Five centers in NBA history, regardless of different eras in the game: 
Number 5: Hakeem Olajuwon. According to Fadeaway, Hakeem was probably the top scorer in the paint for a big man. He brought a big assortment of post-moves and fakes that left opposing players wondering "what just happened?" In trying to defend him, the opposition would often double (or triple!) team Hakeem, which left the big man open to make a pass to an open man. 
But Hakeem could play defense, too. would dominate defensively. He is one of the few players ever to record a quadruple-double in a game, and the only player to do it more than once. Quad-double: double-digits in scoring, assists, rebounds AND blocks. 
Number 4: Wilt Chamberlain. Talk about a style that fit perfectly with the way the game was played in his era… Wilt (The Stilt) averaged an outstanding 22.9 rebounds per game for his entire career, and in one season, he averaged (averaged!) an amazing 50.4 points per game. Then there was that one game where he single-handedly scored one HUNDRED points… all by himself. 
Fadeaway World called Wilt "the greatest stat-sheet stuffer we have ever seen." Without doubt, he was one of the games' true icons dating back to the '60s and '70s.
Number 3: Bill Russell. Winning is everything, right? Well, by that yardstick, Russel is number one. In his long career with the Boston Celtics, he won 11 Championships in 12 Finals appearances, more than anybody in NBA history.  
Number 2: Shaquille O'Neal. Fadeaway World called Shaq a "wrecking ball of dominance…. Running riot in the league for nearly a decade." Fadeaway says defenses had no answer for Shaq, and that he could score every time he went down the floor. And despite his unmatched size and strength, Shaq had great mobility, too. Needless to say, he was a teams worst nightmare on defense.
Fadeaway gave Shaq big props for his play during the postseason, especially the Finals. Some of his greatest performances led to him becoming a multiple-time champion.
Number 1: Kareem Abdul-Jabbar. According to Fadeaway, Kareen is "the greatest big man in NBA history." A few stats: All-time leader in points scored, third in all-time rebounds. Kareem won 6 championships he was named Finals MVP twice and appeared in a record 19 All-Star games. Kareem was one of the best players in the world for 20 years.