If you watch any TV news – especially business and financial news – you've probably heard of cryptocurrency. Put very simply, it's a 21st-century form of money. The most popular type is Bitcoin… you've probably heard of it. 
Always on the cutting edge of just about everything, our man Shaq is now getting in to that world, with a special kind of crypto called an NFT, which stands for (we're not making this up) "non-fungible tokens." They're a very special kind of crypto. There's a better description and examples below. 
For now, know that the four-time NBA champion and serial entrepreneur O'Neal is releasing his own collection of non-fungible tokens (NFTs) in partnership with cryptocurrency programming company Ethernity Chain.
The NBA has already waded into the crypto / NFT game by releasing special editions of video clips of iconic moments from games of the past. In the case of the NBA (and Shaq's) collections, they're very much like digital trading cards. 
Shaq's digital art collection is going to be called "Shaquille O'Neal: The Eras of Dominance Collection." They'll be available for purchase October 15 (as of this writing).
The collection features five different NFTs (digital art) depicting scenes from three of the teams O'Neal played for during his career – the Los Angeles Lakers, the Orlando Magic and the Miami Heat.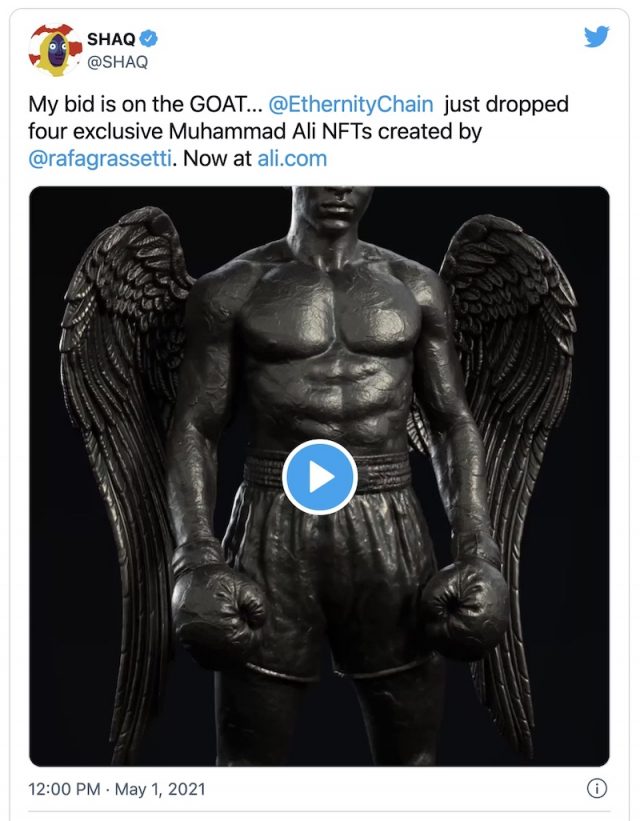 Along with the digital art, buyers will be entered to win a pair of custom size 22 shoes and a personal video call with O'Neal himself, as well as a dinner table at O'Neal's music festival. A pretty big deal! 
Ethernity has previously launched athlete-partnered NFT collections with NFL running back Ezekiel Elliot and famed boxer-turned-politician Manny Pacquiao.
Here's a little of that NFT background, as promised: An NFT is a digital asset that represents real-world objects like art, music, in-game items and videos. They are bought and sold online, frequently with cryptocurrency, and they are generally encoded with the same underlying software as many cryptos.
Although they've been around since 2014, NFTs are gaining notoriety now because they are becoming an increasingly popular way to buy and sell digital artwork. A staggering $174 million has been spent on NFTs since November 2017.
NFTs are also generally one of a kind, or at least one of a very limited run, and have unique identifying codes. 
This stands in stark contrast to most digital creations, which are almost always infinite in supply. Hypothetically, cutting off the supply should raise the value of a given asset, assuming it's in demand.
Shaq says he's been doing a little homework in the crypto and NFT universe, telling the business news cable channel CNBC last month that he wants to "get a full understanding of what [cryptocurrency] is" before investing.
Shaq has already purchased a few NFT's of his own – from different artists. He's already using one of them as his profile picture on Twitter. Golden State Warriors superstar has been using a similar NFT Twitter avatar.