Along with being a former NBA superstar and current media personality and businessman, our man Shaq is also quite the big-time fundraiser for programs and initiatives he supports. And there's nothing O'Neal likes to support more than programs that help young people. 
Probably the biggest fundraiser on Shaq's calendar is something that's simply called "The Event." This year is the second installment of the big party, to be held in Las Vegas on October 1st. 
Just this week (as of this writing), The Shaquille O'Neal Foundation announced even more huge musical acts that have agreed to participate and perform at The Event. The latest additions are international hip hop superstar Pitbull, along with award-winning musician H.E.R.
Those two big names are just the latest to join the star-studded bill, which now includes previously announced acts, including Maroon 5, Maren Morris and John Mulaney.
As we said, the big show is October 1st, and will go down at the Garden Arena at the MGM Grand Resort on the Vegas Strip. And yes, tickets are still available if you're going to be in or near Vegas in early October.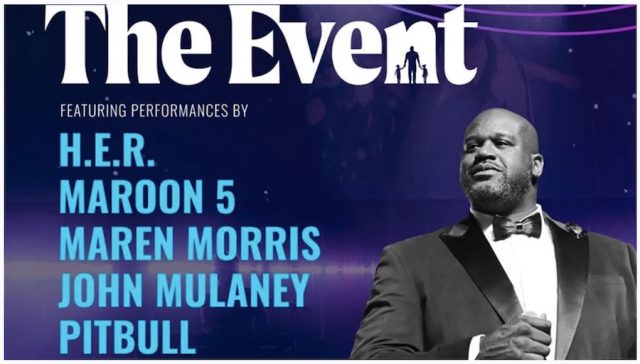 In a press release, Shaq said even he was impressed with the lineup: "When we announced the lineup for this year's show, I honestly didn't think it could get any bigger. Then I got the call that H.E.R and Pitbull were supporting us, along with Maroon 5, Maren and John, and I knew this all-star lineup was now pushed over-the-top."
The Shaquille O'Neal Foundation claims a big-time mission and intention: To "create pathways for underserved youth to help them achieve their full potential." Funds generated by The Event and other big-fun happenings mostly go to support two national organizations close to Shaq's heart — Boys & Girls Clubs and Communities in Schools. The Event serves as the primary fundraiser for The Shaquille O'Neal Foundation.
Concert tickets ranging from $50 to $250 are available to the public and are on sale now via AXS.com. The evening will also include a private cocktail reception, dinner, and live auction followed by the public performance. Table sponsorships for the private event range from $10,000 to $75,000.
More from the big man: "Last year's Event was a lifetime highlight for me, which is saying something. We set the bar high but we're looking forward to an even bigger night this year: more guests, more acts, more passion for positive change. Not only do we have some of the best names in music again, but we're also adding comedy. I'm especially proud of how accessible The Event is, with concert tickets starting at just $50. The evening is about people — from everyday fans to sports and entertainment stars to corporate CEOs — coming together to make a difference in kids' lives."
Shaq's Foundation focuses on serving the groups that support young people in Las Vegas and Atlanta. Last year, it announced the opening of the Shaquille O'Neal Boys & Girls Club of Henry County, located just outside of Atlanta. 
Last year's big party raised almost $3 million dollars, with much of that going to the Henry County facility. It also helped out one of our – and Shaq's – favorite programs, the annual Shaq-a-Claus holiday gift-giving program. This year's event will help fund a new project in Las Vegas.