If you were watching live (or saw the YouTube later) on the night that LeBron James broke the all-time scoring record, you saw some really interesting, touching moments shared between some of the NBA's biggest (and we mean biggest!) names.
That night, we watched as the man they call King James beat the scoring record that had been held for many years by Kareem Abdul-Jabbar. 
Jabbar finished his career as the league's all-time leading scorer. He held that record for an amazing 38 years. Indeed, there were plenty of players and others connected to the game that believed that record would stand forever. 
Yet Kareem was in the house to see his decades-old record broken. Losing the record certainly does not take anything away from his legendary performances and career in the game. Scoring leader or not, Abdul-Jabbar remains an amazing trailblazer, a superstar who remains highly respected by all.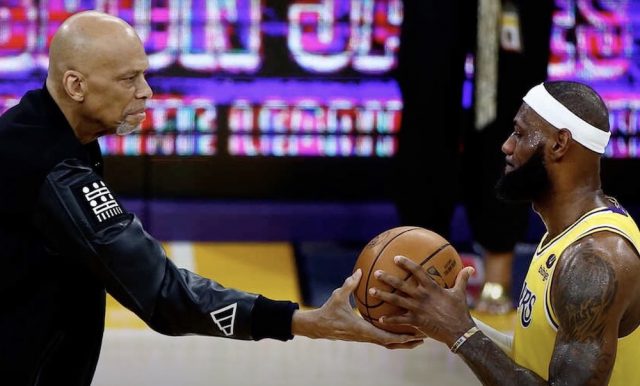 That status of legend was on display the night LeBron broke the record. That night, Kareem was interviewed live by the NBA on TNT crew as the game ended. During the interview, Abdul-Jabbar spent some quality time talking to our man Shaq, clearing the air with O'Neal over rumors that they didn't like each other. It made for some really touching moments, as Kareem praised Shaq for all that he did for the game and the Lakers, and then hearing Shaq talk about his love for Kareem, and who he always looked up to the Lakers legend.
Thanks to our friends at hoops website and podcast Clutch Points for the following info and quotes. In an interview with Clutch over the All-Star weekend, Abdul-Jabbar talked about how the rumors started that he and Shaq had issues.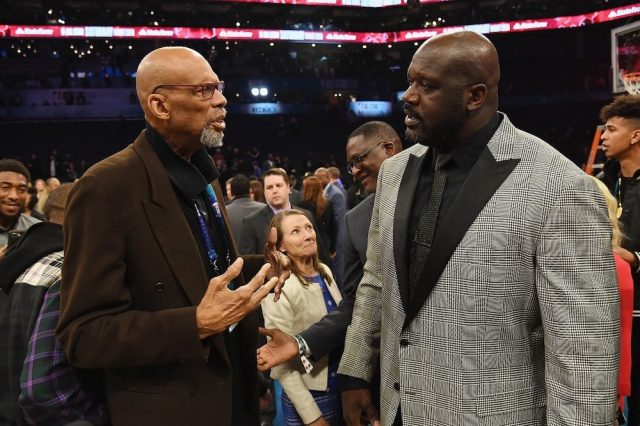 Click here to see the full interview with Kareem on Clutch Points
Kareem said he did originally have a problem with Shaq, only because he wanted O'Neal to become the best version of himself first. He says he's talked with Shaq since that night, saying "I made up for a lot of time with Shaquille… He interviewed me, you know, we just got a lot of things straight. He used to think I hated him and that was never the case. I was waiting for him to reach his potential before I could support him. I didn't want to support when he was just a [young guy]. He and Kobe got together and changed everybody's idea of what he was (capable) of doing."
We're glad the two legends are now on friendly terms. After all, these two are not just Lakers legends, they're among the biggest names in the NBA across the board (or perhaps we should say floor).